What I've been mainly harvesting or what has been ready for harvest for the last month of October. October is usually yet another tricky month as it is highly variable each year like September. 2015 we had a very difficult period of growth with a couple of rolling heatwaves that got up to over 30c Plus for several days in a row and then the temperatures dropped to 15 for a few days and then back up etc.. This meant that the extremes disturbed a lot of natural fruiting cycles and created issues for many plants like Broad Beans and Garlic that rely on a steady cycle from cold to warm and dry weather. Garlic started to mature and dry off too early and many winter legumes just stopped growing or podding up. However there was still lots of good cropping – especially with he herbs that all sprouted early.
This period is traditionally the 'lean' period and September and October are dominated by a small selection of short period seasonal produce – like Asparagus, Artichokes and Broad beans. And all the fantastic Mints start to emerge from winter and the Poha or Cape Gooseberries are at their best ripeness.
Its also time to start preserving all the leftover and ripe citrus like Kumquats and good oranges.
The specific varieties available will vary on the seasons selection and the weather. But these are all examples of what have been harvested at some stage during October.
Some perennials are just pulled as needed and there are more specialist items that will come to mind… I'll keep this up to date as I remember…
Best of the month – Artichokes!!, Asparagus!!! (Poha) Cape gooseberries, Kumquats, Rhubarb, Lettuce, last of the field aged winter pumpkins, Daikon Radish seed pods, Wasabi leaf & flowers, new herbs like Anise Hyssop, Mint, Origano & Marjoram, Rocket, Fistulosum Onions, Turnips, Beetroots, NZ spinach, Parsley & Mitsuba, new leafy greens like Minutina, red vein sorrel & Dandelions and Lemon Balm.
Leaf
Endive – green curled leaf
Raddichio & chicory – Red & Green Grummolo, Treviso, Red Orchid, Catalogna
Lettuce – various – Deer tongue, Devils ear, Romaine, Buttercrunch etc
Mizuna – purple & green
Mibuna
Mustards
Land Cress & Water Cress & other cress like plants
Pak choy & other related brassica greens – various colours (Komatsuna, Choy sum, Bok choy etc)
Sorrel – Lamb's Head & Red Vein
Rocket – Eruca & Wild rocket
Silver Beet & Chard & other perpetual leaf beets  – green and coloured
Salvia Sclarea – new leaf
Mitsuba – Japanese wild parsley
Minutuna – Plantago coronopus
Sow thistle – leaf
Stridolo
NZ spinach – Warragul Greens
other selected salad greens
Allium family
Chives – poly and garlic
Leeks – Carentan
Garlic – new shoots
Shallot – new shoots
Onions – bunching var and new shoots – Ishikura, Red Firenze & Tropea
Rakkyō
Roots & Shoots (Root crops where typically leaf material is possibly also used seasonally)
Asparagus
Skirret – new leaf
Salsify & Scorzonera – roots and  shoots
Beetroot – roots and shoots
Mangelwurzel – roots and shoots
Daikon and other radishes – roots & shoots
Carrots – roots and leaf
Turnips – roots and shoots
Dandelion – roots and shoots
Horse radish – new shoots
Fennel – green & bronze leaf
Hablitzia – new shoots and leaf.
Legumes
Peas – peas and shoots – Telephone
Snow Peas
Broad Bean – new leaf shoots and full pods – various
Assorted
Cape Gooseberries – Poha berries
Sugar cane – new growth
Chili – Santaka, Aji Chanca & Amarillo & Serrano
Wasabi – fresh Wasabi leaf, stalk and stem & flowers
Pepino
Rhubarb
Kumquat – and other late season citrus fruit
Herbs
Anise Hyssop – leaf
Lovage – leaf
Australian native pepper – leaf
Mints – various
Lemon Balm – leaf
Coriander – Cilantro – seeds and leaf
Parsley
Oregano & Majoram
Salad Burnett
Rosemary
Thyme
Nasturtium flowers and leaves
Calendula – new flowers
Rose Geranium
Field balm – Calamintha nepeta & various
Prostanthera – Incisa, rotundifolia
Winter Savoury
 Sprouting Broccoli – purple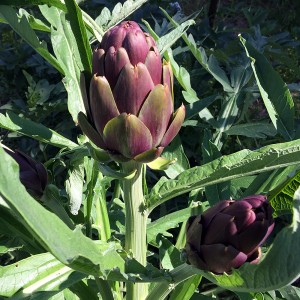 Artichoke
 Minutina