What I've been mainly harvesting or what has been ready for harvest for the last month of August. August is usually a tricky month as it falls at the end of winter and is highly variable each year. 2015 we had a very cold period with a lot of rainfall, sudden storms and strong winds etc. This year it has been very similar to July.
The specific varieties available will vary on the seasons selection and the weather. But these are all examples of what have been harvested at some stage during August.
Some perennials are just pulled as needed and there are more specialist items that will come to mind… I'll keep this up to date as I remember…
Best of the month – Wasabi leaf & flowers, Snow peas, Rocket, Fistulosum Onions, Kales, Cape gooseberry (poha), new turnips, new mint, NZ spinach, Mitsuba, field aged pumpkins, new leafy greens like red vein sorrel & Dandelions, sprouting Broccoli, Oca, Sweet potato, Citrus, Parsley, Cardoons.
Leaf
Endive – green curled leaf
Raddichio & chicory – Red & Green Grummolo, Treviso, Red Orchid, Catalogna
Winter Cabbages – Red Tete Noir and Green Savoy & Filderkraut
Kales – Lacinato Nero, Jagallo Nero, Red & Blue Russian, Green Curl, Frisada
Collards
Lettuce – various – Deer tongue, Devils ear, Romaine, Buttercrunch etc
Mizuna – purple & green
Mibuna
Mustards
Land Cress & Water Cress & other cress like plants
Pak choy & other related brassica greens – various colours (Komatsuna, Choy sum, Bok choy etc)
Broccoli – mainly purple sprouting varieties – Rudolph etc
Sorrel – Lamb's Head & Red Vein
Rocket – Eruca & Wild rocket
Corn Salad
Spinach – various
Silver Beet & Chard & other perpetual leaf beets  – green and coloured
Salvia Sclarea – new leaf
Mitsuba – Japanese wild parsley
Red Stem Celery, Alexanders & other related
Minutuna – Plantago coronopus
Sow thistle – leaf
Stridolo
NZ spinach – Warragul Greens
other selected salad greens
Allium family
Chives – poly and garlic
Leeks – Carentan
Garlic – new shoots
Shallot – new shoots
Onions – bunching var and new shoots – Ishikura, Red Firenze & Tropea
Rakkyō
Roots & Shoots (Root crops where typically leaf material is possibly also used seasonally)
Potatoes – various
Oca – Red, pink, white
Yacón
Skirret
Sweet potato – roots and shoots – mainly Gold – some purple
Salsify & Scorzonera -roots and  shoots
Burdock – gobō – roots
Beetroot – roots and shoots
Mangelwurzel – roots and shoots
Daikon and other radishes – roots & shoots
Carrots – roots and leaf
Turnips – roots and shoots
Sunchoke or Artichoke Jerusalem –  tubers
Dandelion – roots and shoots
Turmeric
Galangal
Horse radish
Fennel – green & bronze leaf
Legumes
Peas – peas and shoots – Telephone
Snow peas – peas and shoots – Yakumo
Broad Bean – new leaf shoots – various
Assorted
Caigua – Achocha
Tamarillo – last fall
Winter Pumpkins – various
Sugar cane – new growth
Chili – Santaka, Aji Chanca & Amarillo & Serrano
Wasabi – fresh Wasabi leaf, stalk and stem & flowers
Citrus – lemon, blood orange, mandarin, Tahitian Lime & Makrut Lime leaf – native limes of various sorts
Amaranth – leaf and seed
Quinoa
Lilli pilli – various berries
Pepino
Cardoon – new shoots
Rhubarb
Cape Gooseberry
Herbs
Australian native pepper – leaf
Mints – various
Lemon Grass
Lemon Balm – leaf
Coriander – Cilantro – seeds and leaf
Parsley
Oregano & Majoram
Salad Burnett
Rosemary
Thyme
Nasturtium flowers and leaves
Calendula – new flowers
Rose Geranium
Field balm – Calamintha nepeta & various
Prostanthera – Incisa, rotundifolia
Winter Savoury
 Claytonia – miner's lettuce
 Lemon Balm
 Mints – various selected
 Mitsuba
 Red Mustard – Junca
 Snow Peas – Yakumo
 Red Stem Cellery
 Winter Savoury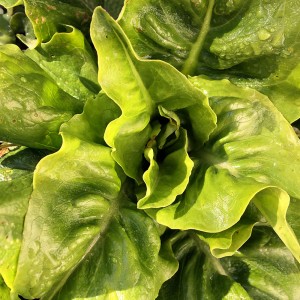 Lettuce – 'Amish Dear Tongue'
 Lettuce – 'Freckles' – Romaine
 Rosemary – (high oil content)
 Salad Burnett
 Lemon Thyme – varigated
 Lemon Thyme
 Alexanders
 Berula erecta – cress
 Kale – Russian Red
 Kale – Russian Red small leaf
 Kale – Lacinato Nero
 Kale – Jagallo Nero
 Kale – Green Curl
 Kale – Green Curl – small leaf