about
What is this? Something about chickenfish…
The chickenfish logo you see is based on an original marketing idea for cod-liver oil for chickens. What could be more inspiring?
Been here for a while now – the site was initially put up just after the Cocos and Keeling Islands .cc domains became available in 1997. The original site content was a conglomeration of material  that existed on other sites from the few years before that. Much of it fairly diffuse and experimental at that time. Some originally developed for bulletin boards and dialup services from the dawn of time etc.
I have had many people ask about visiting the islands. Alas I know very little about where to stay while there. Best advice would be to contact the cocos tourism web site.
 Old stuff?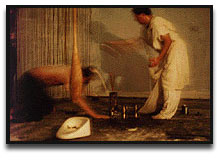 I thought it was about time to purge and refresh…
This site has housed some web projects and information dating back to way before 1996.
An example of this earlier work is 'Fun with Fluids' which grew out of documenting exploratory performance events and 3D digital artwork based on the body and playing with new web 'stuff' from the period 1987-1995. It grew and evolved as the digital web space came into existence and we moved on through from lonely workstations onto bulletin boards and then 'live' forums and eventually the web. It was developed in stated cycles of growth that added|subtracted|divided content derived from live perfomances|exhibitions and random events that occured in parrallel RL space.
Some of this early web material from 1996-1999 period is now housed @ the National Library of Australia pandora project. >eg. Fun With Fluids < was archived [by request] at the end of 57 cycles of development in 1999.
The content from the earlier pre 1996 period is now digital compost fading from existence on floppy disc backups somehwere in a secret location. It was located on web sites that were around before the .cc domain 'became' available. I have summarised a few of the archival projects here and included some images for posterity but the rest is in cold storage till another era when crazy broken old digital art becomes popular again.